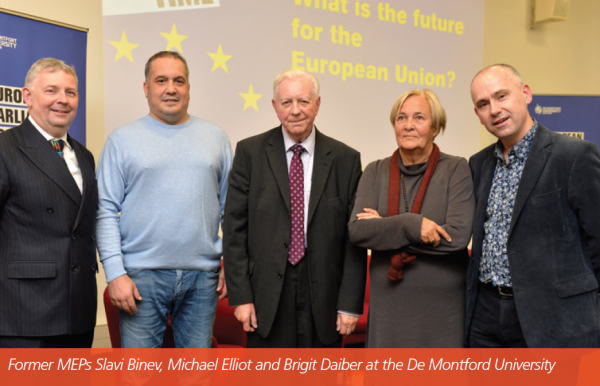 De Montfort University has invited a former Member of Parliament to a conference and seminars with students from 1 to 3 December 2015.
Michael ELLIOTT participated in this event.
Mission report: 3 DAYS EVENT AT MONTFORT UNIVERSITY
This was a very interesting and enjoyable event in which I took part with former German MEP Birgit Daiber and former Bulgarian MEP Slavi Binev. During the course of three days we met and talked with University staff and students from the Department of Politics & Public Policy as well students from high schools in Leicester and in an open public event with the local community. Mostly we participated together, though individually in one or two sessions. De Montfort University is one of the newer British universities, which offers a wide range of undergraduate and postgraduate courses covering many areas of the arts and Sciences. It originated in the late nineteenth century as a local College of Art, which over the years integrated with other local institutions, becoming a polytechnic in 1969 and fi nally achieving University status in 1992. It draws students from all over the UK and from abroad, though many are from the City of Leicester itself, which has one of the most multi-ethnic and multi-faith communities in Britain. The University is now a Jean Monnet Centre of European Governance.
We were hosted by Professor Alasdair Blair, who is Head of the Department of Politics and Public Policy, as well as many staff of the Department who all made us very welcome. We attended and took part in sessions with students on a number of topics, including the political dynamics of the Black Sea Region; nationalism, migration & community relations; the lack of suffi cient women in positions of power and on European Economic issues. We learned with interest that students are preparing a document embodying '100 ideas for Europe' which will be presented to the British Parliament next May. Of particular interest was a session with older students from local schools and colleges on various aspects of the EU including its historic development as well as many current key issues. Much of this session focused on the forthcoming British referendum on EU membership, including both the many important achievements of the EU and the dangers of a possible British exit.
Perhaps, the highlight was an open evening 'European Question Time' attended by well over a hundred students and local residents. The questions were very varied, but again the issue of the British referendum and its implications predominated. Several questioners wanted positive reasons for Britain's continued membership, not just the risks of leaving. This gave me an opportunity to highlight the many achievements of the EU – peace in Europe, improving trade, tackling environmental problems jointly and greater citizen's rights – as well as the benefi ts of free movement for young people in particular. Birgit and Slavi were also able to make valuable contributions from their own perspective on the importance of Britain's continued EU membership. It was encouraging to learn that a survey of students at the University showed over 70% in favour of Britain's continued EU membership,though sadly this is not refl ected by current polling of the British electorate as a whole, which is much more evenly balanced. I would like to congratulate De Montfort University and its Politics Department staff in particular for arranging such a worthwhile programme of activities, which I am sure was much appreciated by allwho took part.