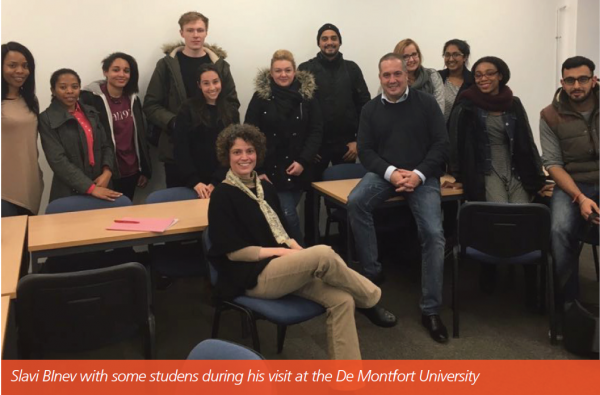 De Montfort University has invited Slavi BINEV  to a conference and seminars with students from 1 to 3 December 2015.
Slavi BINEV participated in this event.
Mission report: A MEETING WITH THE FUTURE LEADERS
It was a true honor to take part in this great initiative and to visit this prestigious University, De Montfort University. How someone like me would feel in a University which have long occupied top positions in all university rankings? I saw a place where science is being made, a place where people actually work for the improvement of the society and a place where leaders are being prepared.
Through the halls of this Alma Mater used to pass individuals who play today a vital role in determining our future. I am sure the list of notable representatives of the University will eventually become even bigger. Students are defi nitely lucky to have professors like those I had the pleasure to meet and communicate with. We are talking about people who clearly are not walking on the path of dry theory, we are talking about academic representatives who truly understand the processes and events that are happening now in the world. Politics is like an organism that is constantly changing. This may be due to our work, the human relations, etc. Therefore, we should look at the political process from every angle in order to understand them better. These professors are fully aware of this. I hail the desire of the professors to develop the debate by inviting current or former politicians with different views. We know that there is no better teacher than experience. By sharing it with the young people we actually prepare them better for the real life.
I am delighted that the students showed remarkable interest in the future of the EU and the development of the international political scene. As I stated before them, 'only by demonstrating active attitude, perseverance and persistence it's possible to bring the change that we all desire' I hope that I managed to grab the attention of the students and to challenge their curiosity. This would be a great reward for me because I would like to witness some day the emergence of a whole new generation of specialists who will further propel our development. I think that the discussions we had together were more than worthwhile. My colleagues from the European Parliament were amazing interlocutors. The information they shared with all of us was interesting and very valuable. As a former MP of the European Parliament and current member of the National Assembly of the Republic of Bulgaria, I think that the exchange of ideas, views with foreign partners defi nitely enriched my politician identity. Once more, I would like to express my gratitude for the invitation to participate in this event and I am open to new joint projects in the future.